2 AWG Welding Cable Specifications
Voltage: 300/500V 450V/750V
size: 2 AWG
Conductor: class 5 flexible copper
Insulation: Single coated rubber jacket/Double coated rubber jacket
Insulation Material: EPR/Seoprene/Vulcanized/Butyl/Neoprene Rubber
Sheath: PCP/Rubber
Sheath Color: Black or according to your requirements
Standard: IEC/VDE/DIN/ASTM/BS EN/ICEA
Packaging: Wooden Drum+Wooden Pallet/Wooden Box

Huadong 2 AWG welding cable for sale
What is 2 awg welding cable?
The 2 awg welding cable is a cable covered with a mixture of chloroprene rubber or EPR rubber. And its cross-section area 2 AWG. 2 gauge welding cable is suitable for AC rate voltages of 300V/500V and 450/750V and below. 2 gauge welding wire is commonly used in power installations, household appliances, power tools, construction lighting, and inside machines where soft or frequent movement is required. In generally, 2 awg welding wire serves as an electrical connection or wiring. If you want to buy number 2 welding cable, please contact Huadong Cable Group now. Email: sales@hdcweldingcable.com

As a professional 2 awg welding cable manufacturer, you can rest assured that our 2 gauge welding cable quality. At the same time, our 2 gauge welding wire prices are also very competitive. We are committed to finding customers who can cooperate for a long time. Therefore, we will do our utmost to give you the biggest discount on the 2 awg welding wire price. So as to achieve a win-win cooperation between us. Just feel free to to get your 2 awg welding cable quotation. You can chat with us online directly in duty time.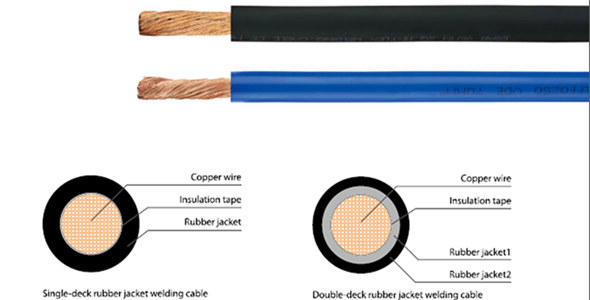 What are the features of best 2 gauge welding cable?
China Huadong Cable Group is a professional 2 awg welding cable manufacturers in the world. If you are looking for high quality 2 gauge welding cable for sale, that would be great. Henan Huadong Group has super quality and low price 2 gauge welding wire for sale. Our company is a large 2 awg welding wire manufacturer integrating R&D, production, sales, transportation, and after-sales services. If you are ready to buy 2 awg welding cable from China, HDC Group is your ideal 2 gauge welding cable supplier totally. Just leave your message through the following quote button or you can send email to us. Email: sales@hdcweldingcable.com

2 awg welding cable has become a hot selling product because of its excellent characteristics. For example, 2 gauge welding cable has excellent properties of heat resistance, oil resistance and non-delay combustion. Especially, the characteristic of non-delay combustion makes 2 gauge welding wire widely used. For example, coal mines and other mines have explosive and inflammable gas. This requires that the inner insulation of the 2 awg welding wire is not easy to cause sparks and ignition even if it is damaged. And number 2 welding cable does not delay combustion, so as not to expand the scope of the accident. If you need to purchase 2 awg welding cable recently, please let us know. I do believe we will have a positive and pleasure cooperation. Email: sales@hdcweldingcable.com

How to choose cheap 2 gauge welding wire?
Even if they are all 2 awg welding cables, they can have different characteristics. As we all know, different 2 awg welding cable conductor materials will make the voltage, resistance and other numbers of the 2 gauge welding cable different. At the same time, different 2 gauge welding wire sheath will also make the cable have different characteristics. You can choose aluminum welding cable conductor or copper welding cable conductor. In addition, you can choose neoprene welding cable, epdm welding cable or other kinds of welding cable jacket. No matter what the material of the 2 gauge welding cable, it has its own focus on performance. Just tell us what kind of 2 AWG welding cable do you want to buy. We will manufacture it for you. 
At the same time, we can produce LSFH 2 gauge welding wire for you. In a word, Huadong Cable Group can customize 2 AWG welding cable for you. This is also a guarantee for you as a regular 2 gauge welding cable manufacturer. Meanwhile, we can guarantee the quality of the 2 AWG welding cable from the source of production. Just leave your message. Email: sales@hdcweldingcable.com Let's start a further communication about our cooperation in the near future.
Why Choose Huadong 2 AWG welding cable manufacturer?
We have four 2 AWG welding cable workshops, each with a workshop area of about 10,000 square meters, 20 sets of advanced 2 gauge welding flex cable production equipment, 20 high-tech engineers and 150 employees. Each production process is strictly inspected by our professional engineers.

Starting custom your ideal 2 AWG welding cable size, the 2 gauge welding wire factory price will send you within 12 hours.  Email: sales@hdcweldingcable.com
Testing: Huadong Group performs rigorous testing on every step of the 2 AWG rubber welding  cable production process.

Package & Delivery: 2 gauge welding cable package by iron or wooden drum or according to your requirement.

Customer Case: Our 2 AWG welding cable products have been exported to more than 30 countries, such as:
Russian, America, The Philippines, Yemen, South America, North America, Middle East, Africa, Asia,
Oceania countries and etc.

Please kindly send us your inquiry 2 gauge welding cable list and order quantity, our sales team will send our offer documents to you within 12 hours.
Email: sales@hdcweldingcable.com