Please kindly send us your inquiry flexible silicone rubber cable list and order quantity, our sales team will send our offer documents to you within 12 hours. Email: sales@hdcweldingcable.com
Silicone Rubber Cable Specifications
Voltage: 300/500V 450V/750V
Conductor: copper/aluminum
Cores: 1/2/3/4/5/according to your requirements
size: 10mm/16mm/35mm/50mm/70mm, etc.
Insulation: silicone rubber
Sheath: PCP/Rubber
Sheath Color: Black or according to your requirements
Standard: IEC/VDE/DIN/ASTM/BS EN/ICEA
Packaging: Wooden Drum+Wooden Pallet/Wooden Box

silicone rubber cable for sale
Custom Service: Huadong Cable Group provide custom service for every customer. You can customize
rubber cable size in our company. Please kindly tell us what specifications of rubber cable do you
want to buy. You can contact us by the following quote button.
Starting custom your ideal silicone rubber cable size, the factory price will send you within 12 hours.
What is silicone rubber cable?
Silicone rubber cable is a kind of rubber cable and its insulating material is silicone. Silicone rubber wire is suitable for moving or fixing the wiring or signal transmission of electrical apparatus and instruments with rated ac voltage 450/750v or below. The cable has good thermal stability. The silicone flexible cable can keep good electrical performance and softness in high temperature, low temperature and corrosive environment. Silicon rubber cables are suitable for use in electric power, metallurgy, petrochemical and other industries with special requirements such as mobile temperature resistance. If you just need to buy silicone rubber insulated wire, Huadong Cable Group will be your ideal silicone rubber cable manufacturers.

Silicon is a kind of synthetic rubber material. Rubber insulated wire and cable have been developing for more than 100 years. Rubber insulated cable is the oldest type of wire and cable products. Flexible silicone wire are mostly used for mobile and harsh working conditions. With the development of rubber industry, various kinds of synthetic rubber are developed and developed. Silicone rubber cable is the most typical synthetic rubber cable. Email: sales@hdcweldingcable.com

Silicone rubber wire greatly improves the performance of rubber insulated wire and cable. In addition to the inherent advantages of natural rubber, silicon rubber cables have increased oil resistance, cold resistance, heat resistance and other excellent properties. Therefore, rubber insulated wire and cable varieties more abundant. At the same time, silicone rubber insulated wire has more extensive application. Now contact us to choose silicone rubber insulated cables which you need.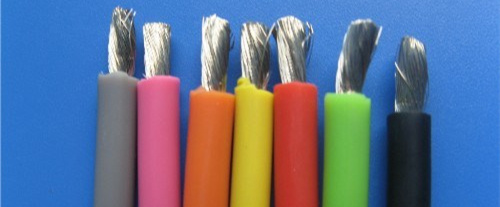 What are the features of silicone rubber wire?
Silicone rubber insulated wire products have excellent properties of heat – resistant radiation. At the same time, the silicone rubber insulated cables are also cold – resistant, acid – alkali – resistant and corrosive gases and other characteristics. In addition, the silicone rubber glass braid wire also has waterproof properties. The silicone insulated wire structure is flexible and easy to install and lay. If you want to buy silicone insulated wire, please feel free to message us. Email: sales@hdcweldingcable.com

The electrical properties of flexible silicone wire is stable even at high or low temperatures. In addition, the silicone rubber cable has outstanding anti – aging performance. Therefore, the service life of silicone rubber wire is longer than other kind of cable. Silicone insulated cable is widely used in metallurgy, electric power, petrochemical, electronics, automobile manufacturing and other industries. Please feel free to message us if you are ready to buy quality and cheap silicone flexible cable from China. Email: sales@hdcweldingcable.com

Where to buy quality and cheap flexible silicone wire?
If you are looking for reliable silicone rubber cable manufacturers from China, our company is your good choice. Henan Huadong Group supplies a comprehensive range of silicone rubber cable manufactured in accordance with America, Germany and international standards. At the same time, We supply flexible silicone rubber cable to a number of other standards. No matter what kind of silicone insulated wire you need, just feel free to tell us. Email: sales@hdcweldingcable.com

As a professional flexible silicone wire manufacturer in China, we have the strength to produce all kinds of silicon rubber cables for you. In addition, Our silicone rubber wire technical engineer can also design and develop bespoke silicone flexible cable solutions to meet your application's specific requirements.

Our silicone insulated cable factory is located in Xiuwu county, Jiaozuo city, Henan province, China. Meanwhile, we sincerely welcome you to visit our silicone rubber insulated wire factory at any time if it is convenient for you. If it is inconvenient for you to visit our silicone rubber glass braid wire factory, we can send you silicone rubber insulated cables free samples. Just feel free to contact us and tell us your requirements. Now please kindly send your inquiry silicone rubber cable list and order quantity. We will reply you as soon as possible. Email: sales@hdcweldingcable.com

Why Choose Us?
We have four cable workshops, each with a workshop area of about 10,000 square meters, 20 sets of advanced cable production equipment, 20 high-tech engineers and 150 employees. Each production process is strictly inspected by our professional engineers. Email: sales@hdcweldingcable.com

Testing: Huadong Group performs rigorous testing on every step of the rubber cable production process.

Package & Delivery: Silicone rubber cable package by iron or wooden drum or according to your requirement.

Customer Case: Our silicone rubber cable products have been exported to more than 30 countries, such as: Russian, America, The Philippines, Yemen, South America, North America, Middle East, Africa, Asia, Oceania countries and etc.

Please kindly send us your inquiry silicone rubber insulated wire list and order quantity, our sales team will send our offer documents to you within 12 hours. Email: sales@hdcweldingcable.com